By NIKHAR RIAZ
"NIKHAR RIAZ SPEAKS WITH THE GORGEOUS YOUNG ACTRESS ABOUT HER FIRST BIG BREAK, PREGNANCY CRAVINGS AND BEING TICKLED"
When did you decide a career in acting was for you?
Not till I did my first project, Mera Naseeb and received a fantastic response. After doing a couple more projects and getting more comfortable in front of the camera, I thought, 'Why not?'
How were you "discovered?"
Once out of boredom I accompanied my sister to one of her auditions for a commercial, where I was asked to give it a shot. I was definitely terrified because I was very camera-shy but I gave it a try anyway, which resulted in me getting that commercial.
Which character have you most loved playing? Which one was the most challenging?
I thoroughly enjoyed playing Serena from Tanhayian Naye Silsilay. The most challenging was Rubaru because I had to do a double role and managing the contrast between both characters, and making sure they don't at all come across alike was quite tough.
How did you meet your husband, fellow actor Shehroz Sabzwari?
We had mutual friends so yeah, at a friend's.
Do you practice on each other? Are you each other's harshest critic?
Well, not the harshest! But we definitely give each other our honest opinions. And no, we don't practice together.
When you found out you were pregnant, what was your first thought?
I was ecstatic! I've always wanted to be a mother at a young age, so it was perfect timing!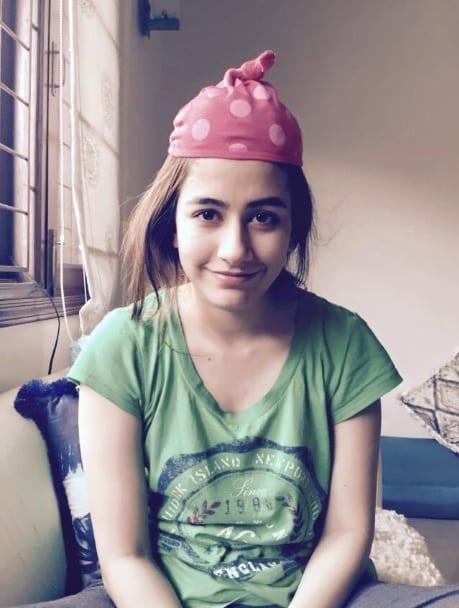 What are the best and worst parts about being pregnant?
You get to eat everything! And everyone pampers you oh so much. I love it! Shehroz has been very caring and thoughtful throughout. Having nothing to do and watching yourself bloat up is tough though!
What foods have you been craving?
Initially all I wanted was pickles, chaats and everything sour and spicy. But now, towards the end, I've developed more of a sweet tooth, which is so not me.
Do you think it'll be hard going back to work after the baby?
My friends who are already mothers say it will be, but I like to think I'll be able to manage InshAllah.
What's the best advice you have received so far about being pregnant? From who?
From my gynecologist, who said, "Only discuss your pregnancy with three women: your mother, your mother-in-law and me. We want what's best for you. Everybody else is going to tell you what a traumatic experience it is, and you don't want that". Which is so true because whenever somebody notices the bump, all they have for me are scary stories.
What is the best part about living in Karachi?
I've grown up here. It's home.
How do you and Shehroz handle the fame?
We make it a point to keep reminding one another to stay humble and down to earth.
LIFESTYLE:
Perfume you wear: Issey Miyake
Addicted to: Food channels
If I could change one thing about me it would be: Nothing. I'm pretty content with myself!
Secret talent: I can cook well
I like my coffee with: Cookies or muffins
Brain or brawn: Brain!
Love or money: Love
FASHION: 
You hate it when you see people wearing: Too much makeup in the day
Favourite shoe this season: Espadrilles – striped and floral
Your closet is a shrine to: Forever 21, Mango and Zara
Favourite designer(s): Sania Maskatiya, Zara Shahjahan, Christian Dior, Chanel and Valentino
Oldest item in your closet: A pair of Pull and Bear jeans
Necessary extravagance: Nothing too extravagant is ever necessary
AT HOME:
Favourite piece of furniture in your home: A green hand painted stool from Tali
In your DVD player: Some stupid movie that I watched till the end and did not like
What makes you laugh uncontrollably?: If someone tickles me
When are you the happiest?: When I'm with family