By SHEEBA
Acting in dramas, running his own production house, hosting a morning show and now a game show, and last, but absolutely not the least, being the star of the biggest blockbuster in Pakistan, Na Maloom Afrad,  Fahad Mustafa is a household name. How he has time to do anything else and have a family life is beyond me, but he does it all. When I wanted to interview him, I really thought it would some sort of a battle, but no, he very graciously took an hour out to chat (during a break on his drama shoot might I add).
How does it feel to not only be known as a great TV actor, or a host, but also a great film actor? Na Maloom Afraad (NMA) was a mega hit, how does that feel?
Don't exactly know since I've never felt this before…It's the first time I've done a film and it has been a hit. Allah has been very kind. The game show that I do and the film are directly proportionally to each other. For everyone to go out and watch a Pakistani film instead of a Bollywood movie is a huge achievement.
You went from a TV actor, to a morning show host, to a game show host, to now a film actor…how was the transition? How does your family handle it and the fame that comes with it?
I choose very different roles because I am very experimental. Morning show was great, but I got tired of it. It felt like I was stuck at the same place. In the last few years, I have Produced 20 serials. I was more into production and Big Bang Entertainment will also be producing films soon InShaAllah.  Jeeto Pakistan is all me…I just go out there and masti mazaq kya, khatam. I don't have to pretend to be someone I am not. The audience sees the real Fahad Mustafa on the game show. You know, nothing goes as planned anyways…you can sit there and make a 5 year plan, but it's not going to happen exactly the way you want, so just let it be, jo ho raha hone do. As to how the family handles it, they are used to it grace of God due to my father's fame (who recently won Pride of Performance). We actually don't discuss work at home. Yes, now that my wife writes for Big Bang, she is a very important pillar professionally also, so sometimes we will discuss a script, but that is it… At home, I forget ke I'm an actor.
I saw a tweet of a pic of you standing in line for Naan a couple days after NMA released saying, "my film is a hit aur mere abba ne mujhe naan lene bhej diya," was that for real?
Yaar, absolutely…so the film released, it was a house full in theatres, I'm getting calls from friends, critics congratulating me and here is my father day after Eid saying "chal yaar, naan to leker ana beta…" So I went…it was funny cause I'm standing in line with everyone and people are looking at me going, "aap Fahad Mustafa hain na, jinki movie abhi hit hui hai? Aap yahan kya ker rahe hain? Maine kaha naan lene aya hoon jee." I love doing these things though. I love interacting with people.
The upcoming Doosri Biwi is supposedly your last drama, why is that?
I believe in doing different stuff. I've been involved in 40 productions already. I want to change television. You know there are 800-900 scenes for just one serial, when 60-70 maximum scenes are what you can enjoy…it's very tiring and time consuming. With a home production and the game show, I just can't devote that much time anymore for dramas. We are about to produce films also which is also going to take up a lot of time.
This is a question I ask everyone because I get a different answer every time. What do you think of the Pakistani drama industry these days? As an actor, do you think you have any responsibility to the audience of your work?
Yaar hum lecture dene ky liye kaam nahi karte hain. We are entertainers and only responsibility is to entertain. Why do we need to give a message? I have a 4 year old daughter MaShaAllah and in my house we just don't watch certain channels. Hum yeh nahi karte hain ke beta aap jaen aur bachon ko doosre kamre mein bhej diya aur hum khud woh dekh rahe hain. We ourselves don't watch those channels or shows. You don't like certain things on television, then just don't let your kids watch it and don't watch it yourself. Educate your kids…they will know what is good and what is bad by the character parents display.  School mein to kuch sikha nahi rahe hain…ghar mein he seekh lein.
Would you ever go to Bollywood if offered a role or are your plans are to stay in Pakistan?
So I have three examples of people going to Bollywood; Imran Abbas (who is a really good friend of mine), but he made a bad choice. Ali has a role in Kill Dill, but where is he in any of the promos? His work gets cut and I can't stand that happening to me. It's good to be here. At least here my work won't get cut. Fawad is the only one that has gotten his due. The movie was good, his role was good and he got a very good share of publicity there. I would work, but only on an equal basis, not to struggle. I'm happy here.
Pakistani Cinema is making a great comeback with some great movies, but with that we see a lot of social media wars among the actors, more recently you and Jami (Director of 021). Why is that?
Ok so this is what happened. In my opinion the problem is that we become stars first and so we can't relate to the audience. So to get away from that my idea was to promote NMA in malls and universities. I can connect to the audience so I know what they want. They want to interact. Pakistan is full of fantastic people so we should go everywhere and promote the movie. But while we were promoting NMA, we also promoted 021 because it too was a Pakistani movie. Then I saw a tweet from Shaan stating 021 is coming out and asking whether people are going to watch 021 or Bang Bang (Hrithik Roshan's movie). There was absolutely no acknowledgement and that hurt me. Shan is a senior and I have great respect for him, but that was wrong. Yes later Jami started promoting it, I admit.  Then they started talking about this is not Pak genre and item numbers aren't our culture and what not. First of all, Pakistan genre is not mujahid or Afghanistan either. People saw NMA and they had fun. Everyone sits there and watches Bollywood songs and item numbers, but when we have an item number it is wrong? And there was one item number, the people didn't come just for that one song, they came for the entire package and they had a lot of fun. There is already so much depression in Pakistan so if you are going to make a film to entertain, then make the film entertaining. Be brave enough to be who you are and don't pretend to be who you aren't.  Pakistan mein eik India ki film 5-6 carore ka business karti hai…because people watch it. You need to be equal to that. If your film comes it should be entertaining. I was offered 021…I wasn't offered Shan's character and I never said that. Zeba Bakhtiyar and Azan both know this. It was a completely different film when offered to me, in fact Jami wasn't even in the picture at the time…it was Summer Nicks who was the director.
There is a huge Pakistani audience abroad, but we haven't been able to see any films in the theatre. When will we get to see Pakistani films like we do Bollywood films?
Pehle  hum eik doosre larna to khatam karein. Do films eik waqt mein release hueen to dono teams lar rahi hain. We have to fix all of this first, only then can we think about distributing abroad. The people who came before us really messed things up for us, we have to fix that and it will take some time. But InShaAllah in due time you will get to see Pakistani films in theaters abroad also. Per abhi waqt hai.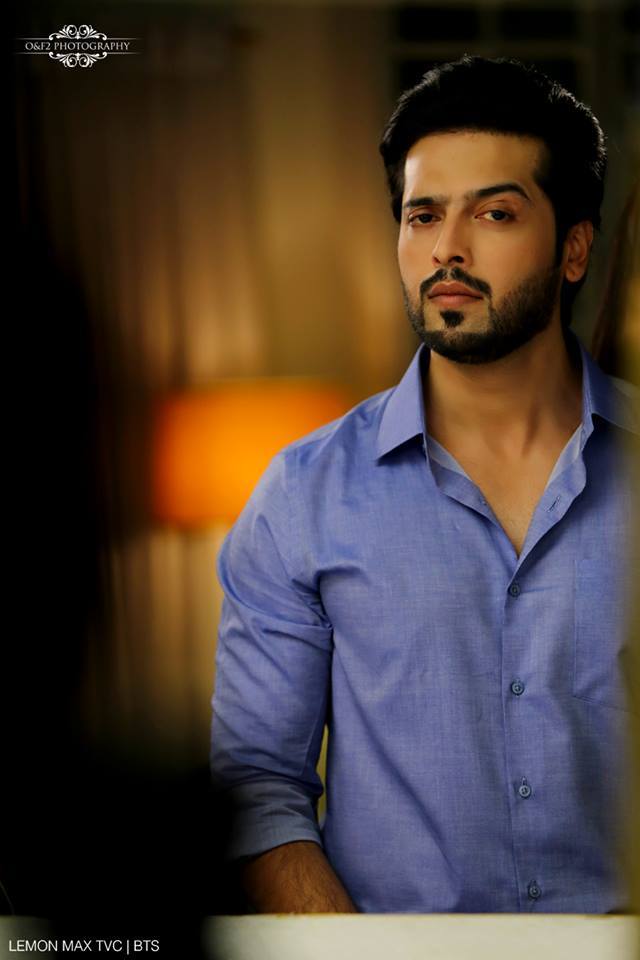 Barring budget (if that weren't an issue) what would your dream project be?
Not yet I will produce my dream project myself
Tell us about Maah-e- Meer; How was the experience?
Maah-e-Meer was a milestone character for me going from total comedy to intense romance was a bit difficult for me but I worked hard and tried to came up to the expectation what everyone had about me.
Any advice or message to your fans?
Whatever you do, do it with a full heart and soul. Don't force yourself to do anything don't actually want to do. And always remember, Pakistan Zindabad!
And with that it ended. What I learned about Fahad is he is genuine to the core…he says what he feels without regrets, but does so respectfully. He did not give me any star-like attitude, was extremely nice and I had fun because I didn't have to to do much. He kept talking and I kept typing…nothing was 'off the record.'  I can't end this without putting on the record that this interview would not have been possible at all  had it not been for Faizan Islam, Fahad's manager. Faizan not only had to keep Fahad's extremely busy schedule in mind, but also my schedule and the 11 hour time difference. Thank You  Faizan!
Courtesy : Drama Pakistani